---
 The Ultimate in Fresh Alaska Fish & Seafood
Over the 15 years of providing Adventure services, our clients have been blessed by the culinary skills of many wonderful chefs. CAC prides itself with employing outstanding and talented chefs certified with a culinary education or strong backgrounds and experience in the food service industry. The recent years have been some of the most memorable for our guests, not only because of the fishing or adventure, but most certainly because of the fabulous meals prepared with care and served with pride. On a trip with CAC you can be assured of daily feasts better than top-of-the-line restaurants anywhere in the world, partly because of the galley talent, but almost certainly due to the freshest wild seafood to be had on the planet!
Classic Alaska Chefs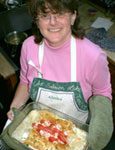 Chef Karen Disch arrived in Ketchikan the last week of June  to revitalize the summer epicurean program aboard the Saltery C. She hails from Crystal Lake, Illinois, and after a successful corporate career, graduated from CHIC, the Culinary and Hospitality Institute of Chicago. She's generously offered to reorganize and restart the CAC culinary program for it's 15th Anniversary. She holds a special place in Captain Rob's heart too……Chef Karen is Captain Rob's endearing and very accomplished sister. For the month of July guests were spoiled with incredible creations from the galley and Chef Karen. Meals were prepared with thoughtful care and unparalleled expertise to delight the palates of every single person aboard. Captain Rob is extremely grateful for tremendous success that Chef Karen brought to the summers operation, AND, for her efforts of finding a chef to finish out the summer season.
Visit Classic Alaska Charters to meet our Chef and see what else is new at CAC!
Classic Alaska Charters
Sample Menu
Monday
Mid-Morning Snack: Cheddar Bacon Dip and Wheat Crackers
Tuesday
Wednesday
Thursday
Friday
Meet CAC's Previous Chefs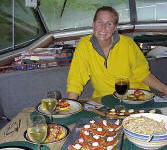 Shannon Carstens flew in from US Virgin Islands, taking time from her successful catering company to delight the taste buds of all CAC guests for two summers.  Her charming personality and formal plate perfection was consistently excellent.  Shannon's dedication and efficiency was tops among CAC chefs over the 15 years!  She's currently in Colorado doing graphic design work, another passion of hers.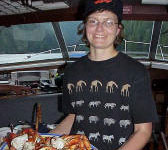 Misty Amburgy filled in when Shannon had to take emergency leave.  Hailing from Colorado, Misty had been exploring Ketchikan when she accepted the position.  Her "family management" (Pro Nanny) experience and Navy background served her well aboard the Saltery C.  Misty also was a certified masseuse, and provided daily neck and shoulder massages to whoever wanted one!  Misty has since started a full-time masseuse business in Plaza Port West Mall in Ketchikan.
---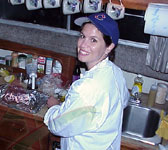 Phyllis Petrilli arrived in Ketchikan to finish out the season for CAC. She's a graduate of the Culinary and Hospitality Institute of Chicago.  She spiced it up on the Saltery C with her prominent and proud Italian flair!  Phyllis produced outstanding meals daily and loved working with super fresh seafood.  Her delightful disposition and culinary magic were a big hit every week!  Phyllis returned to Chicago and is now a full time chef and lead instructor at the North Shore Cookery.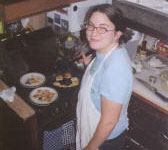 Mandy Davis
, originally from Ketchikan, came back just a couple of days after completing her chef certification from the Seattle Culinary Academy.  Her Asian themes were perfect for the daily seafood "creations"!  Mandy has extensive knowledge of natural foods found in Alaska, and added some impressive side dishes such as Beach Asparagus (the Captain's favorite) and the surprisingly delicious Kelp Pickles.  Mandy is currently in Seattle planning a culinary sojourn to the Far East and China.
---
Recipes
For all my previous guests wondering what to do all the fish they caught with us, here are some of the most requested recipes to prepare your fish catch in grand culinary fashion … just like on the boat!