---
Ketchikan Alaska Freshwater Fishing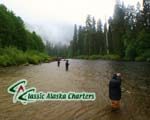 Freshwater fishing in Ketchikan Alaska is, of course, phenomenal by any standard! The diversity of ecosystems found throughout Alaska produce more biomass to the ocean in the form of anadromous salmon, Steelhead, and trout, than anywhere else on the planet!
Still to this day it's possible to stand in rivers teeming with record numbers of salmon along with more trout you can imagine.
Fish Pristine Alaska Wilderness!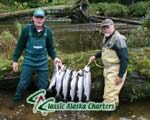 Some areas of Alaska are certainly getting crowded with tourists clamoring and casting elbow to elbow, known in the Anchorage area as "Combat Fishing", for their favorite species often within the city limits. Here in Southeast Alaska however, freshwater fishing opportunities are vastly different. Excellent wilderness fishing experiences can be pursued here without having to share your fishing "space" with other groups of tourists or having to tolerate traffic jams to get to the honey hole. All of our freshwater fishing charters take place in pristine wilderness settings.
In addition to the fabulous saltwater fishing, Classic Alaska Charters provides outstanding wilderness freshwater fishing charter opportunities as well. From Prince of Wales and Revilla Islands to all corners of Misty Fiords National Monument Wilderness Area, you'll explore creeks, streams, and rivers that haven't had humans standing on their banks for years (other than CAC groups of course)!
Alaska Fly Fishing and Spin Fishing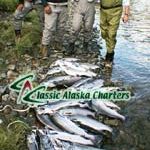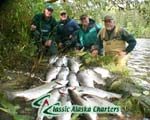 All summer long you can experience freshwater spin or fly fishing for Cutthroat and Dolly Varden Trout, while April and May are best times for Steelhead up to 20 lbs. Starting in July the Kings, Pink and Chum Salmon start moving in along the outer coast and awesome stream fishing can be had for chrome bright and feisty "pioneer" fish…..with the exception of King Salmon. King Salmon fishing in freshwaters of Southeast
Alaska is not allowed! As the summer progresses the Sockeye, and Coho's return to their natal streams of origins as well. Pink Salmon arrive in huge numbers…by the millions and range from 4-10 lbs. Right with them are the monster Chum Salmon, while not in the millions they certainly are plentiful enough for everyone to have a try to hang onto one! The Chums or Keta, as their also known, are 2-3 times the size of the Pinks….in the 12-25 pound class, and are a lot of work trying to get them close enough to the bank to land, especially on a fly rod.
Although Sockeye Salmon are available in the area, we generally target the acrobatic Coho Salmon instead because they're larger, and readily smash a lure or fly. Coho's arrive later in the season around August and can be found through October. Because they usually tip the scales from 10-20 pounds and are incredibly delicious table fare, the Coho is a most sought after species in both salt and fresh waters.
Combine Saltwater & Freshwater Fishing In One Trip!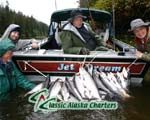 With Captain Rob as your charter guide, you can expect to catch your limit of Pink Salmon in July & August, along with good opportunities for huge Keta Salmon too. Later in the season you could pick up more Coho, also known as Silver Salmon, until late August into Sept-October when limits can be expected. Classic Alaska Charters offers a unique venue of exploration that incorporates both Salt & Fresh water fishing adventures in a single trip…. nobody else does in the Ketchikan area…. at least not legally, and certainly not as well as we do! Make sure the guide you're with (if you don't book with us) has the required US Forest Service Special Use Permits for operating shore excursions and freshwater activities! If they don't have the proper permits, you would be enabling unauthorized use of National Resources that could compromise future use in wilderness.